High-Quality Precision Machining
At Davis Industries, we are a quality-oriented precision machining company serving major aerospace manufacturers as well as customers in the military and commercial markets. We have been in business since 1969, and our strong industry roots combined with our ISO 9001 and AS9100 quality certifications give us the background and the qualifications to produce parts of the highest caliber. Our machining department incorporates powerful three-axis and four-axis mills and lathes that we use to their fullest capacity to produce parts with exacting tolerances and surfaces.
As an accomplished supplier of aerospace, military, and commercial- grade parts, components, and assemblies, we have a commanding knowledge of how to machine lightweight aluminum, stainless and alloy steel, hard and temperature resistant metals like titanium, and many types and grades of engineering polymers. We have the versatility to turn parts measuring from .062" to 12.0" in diameter x .100 to 20.0" in length while our milling work envelope measures 40.0" x 20.0" x 20.0". With our CAD/CAM systems, we attain fast machining speeds, a high degree of accuracy, and excellent repeatability. We maintain tolerances as close as ±.001" on turned parts and ±.002" on milled parts.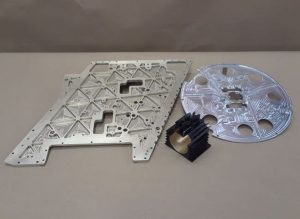 Our quality assurance program leverages advanced metrology instruments and software for the measurement and inspection of machined components. We use high-accuracy CMMs and an arsenal of other tools and devices to ensure parts comply with specifications, and we provide supporting documentation as requested. As a full-service contract manufacturer, in addition to precision machining, our in-house capabilities include sheet metal fabrication, AWS certified welding (commercial), and product assembly. We accept orders of any size, from prototype to high volume, and we have an outstanding record for on-time delivery.